If you have a dream of owning a farm someday but have never actually farmed, then this program is designed to help you decide if this lifestyle is for you
Prerequisites:
Applicants will have a strong work ethic, a fit and able body and mind, excellent communication skills and the ability to work with a task-based approach (as opposed to a time-based system). The manual work is often repetitive and strenuous. This is farming!
~ Minimum of 18 years of age
~ Have good health and be able to work. Must have a negative covid test within 24hrs before arriving. This is not a healing retreat. You must be able to work at least 5 hours a day.
~ And bring these 9 qualities that require zero experience or talent!
1. Being on Time
2. Good Work Ethic
3. Honest Effort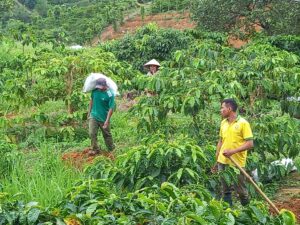 4. Positive Energy
5. Friendly Attitude
6. Being Coachable
7. Doing Extra
8. Being Prepared
9. Shared Passion
Option #1: Two-week farmer try-out volunteer
– Shared housing or tent
– Hot showers and toilet facilities
– Basic kitchen facilities
– Food – we provide rice, chicken, eggs, mushrooms, and fish. Vegetables are picked by you from the garden.
– Community living – Cooking, cleaning, socializing
– Farm Tasks: Managing the nursery, chickens, goats, building compost, worm farms, weeding, planting, digging earthworks, watering, spreading compost, repairing/creating infrastructure, and other related tasks, etc.
– All volunteers must contribute work in the community garden. There will be fresh produce for you to pick and seeds for you to plant to replace what was used.
Option #2: Four-week farming introduction/Internship
– Shared housing or tent
– Hot showers and toilet facilities
– Kitchen facilities
– Food – we provide rice, chicken, eggs, mushrooms, and fish. Vegetables are picked by you from the garden.
– Community living – Cooking, cleaning, socializing
– Farm Tasks: Managing the nursery, chickens, goats, building compost, worm farms, weeding, planting, digging earthworks, watering, spreading compost, repairing/creating infrastructure, basically, anything that we need to get done to provide our educational trainings and move our permaculture projects forward.
– All interns must contribute work in the community garden. There will be fresh produce for you to pick and seeds/seedlings for you to plant to replace what was used.
PLUS: – One-on-one/class instruction:
soil testing
compost styles
earthworks for preserving water
Trees and their functions
Food forest design
perennials
fungi