My journey here has been a very long one. When I was 21 y/o, I walked into a bookstore and started to read a magazine called Mother Earth News. I've since subscribed to it for almost 45 years. In it were articles about moving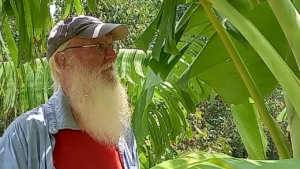 back to the land and something new called permaculture. I kept reading and absorbing the knowledge it gave me but never put it to use except for a few excursions into window sill gardening while I was in college.
Fast forward now to 2015, my partner and I were creating a business to teach children about nature, and soft skills, in English in Vietnam. We were scouting out various farms when we came to one that met most of our needs. The owner became excited about what we were doing and wanted to give us a grand tour of her tree farm. On one section there was this huge boulder that looked like a giant had cleaved it in half with a giant ax. The rock stood about 2-2.5m high.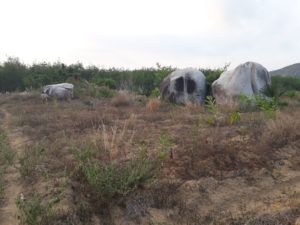 As I looked upon the rock all these memories of articles I read on how to build using natural materials, came flooding into my head. Including the word "Permaculture".
The owner saw me looking at the rock and said to my partner, "I like him". He is the only one who has seen the land and looked at the rock. Then she offered to sell us the land. We decided to buy it right then. And then we dug a big pond and planted over 3,000 trees for future use in our forest farm.
While waiting for our land registration, and the pandemic to end, we were offered an opportunity to create an educational tour, and camping program for children at an organic farm. We were also offered a house, and some land to rejuvenate as part of my Permaculture Design Certificate program. The pandemic didn't end as soon as we had wished and had to close down our Language Center and the Camping program.
Just when the covid restrictions lifted we were given another opportunity. This one was to buy 2 coffee farms, totaling 5 hectares, in the Central Highlands of Vietnam. We built 2 houses there, one for us and another small one for guests and students. We had over 400 coffee trees here when we bought it and planted another 1500 trees to create our food forest. We are now conducting Permaculture classes here and have a volunteer and internship program. I took an Advanced Permaculture Design Certification course from Matt Powers in addition to his Introduction to Regenerative Soil, Regenerative Soil and Regenerative Entrepreneurs & Experts