Because Google Maps will give you the wrong directions if you search for our farm directly, please enter
12°26'08.7″N 107°49'26.2″E.
When you arrive at that spot, if coming by motorbike or car, call us for directions from there.
For the bus from HCMC there are 2 options:
Phương Hồng Linh bus or Thư Kỳ bus to go to Krongno from HCM. Option 1: Phương Hồng Linh bus, park at the old Miền Đông Station. But they have an office at 111 Xuan Hong, Tan Binh, and pick-up vans for customers in Districts 1, 3, Tan Binh, Phu Nhuan, and a certain place in Binh Thanh. Phuong Hong Linh has a night bus (main schedule) that departs at 19g30 and gets to Krongno bus station around 3 pm-4 pm. If you take this bus, you have to stay at Krongno bus station and wait until 7 am for our people to pick you up to our farm. Sometimes, they have day buses that depart at 7 am or 12 pm, which get to Krongno around 3pm and 8pm. We suggest that you should take these day buses, especially the morning one, so we can send our people to pick you up when you come.
It has been reported that the following bus is no longer operating on this route. You could still check.
Option 2: Thư Kỳ bus – park at 120 quốc lộ 13, not so far from Miền Đông bus station. It departs at 20g30 from HCM and gets to Krongno around 5 am. 
Additional information, Thu Ky bus drivers drive quite more carefully than Phuong Hong Linh's drivers.
P/s. Please announce your bus schedule when you get the ticket and your phone No. so we can arrange for someone to pick you up when you come.
From Buon Ma Thuot
If you fly into Buon Ma Thuot Regional Airport, you can take a bus to Krongno Bus Station. Call this number to find out the schedule of Bus #13, 0903 509 275.
Here are the directions from the Airport to the Bus Station: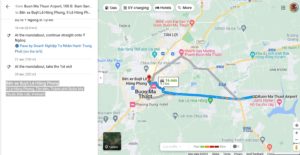 DO NOT take a 16-passenger bus. These are typically loaded up with as many as 30 passengers AND packages which are loaded into the isles.